When it comes down to it, you deserve your wedding to be gorgeous and stress-free, surrounded by your loved ones. Whether you're a local, or are looking to do a destination wedding, Arizona is one of the most gorgeous places to plan for. While the summers are scorching hot, there are many months of the year that are perfect for planning your big day. Let's get into some of the details as you get more familiar with our resort and accommodations.
Our historical resort is located in Litchfield Park, Arizona. We're located close to both Phoenix and Glendale, but far enough out to enjoy the private, relaxing vibes our property has to offer. The great part about our resort is we have beautifully landscaped grounds, gorgeous outside venue areas, and great indoor rooms, too. Our wedding packages are designed to take all of the guesswork out of the process, giving you peace of mind knowing the smallest details are all taken care of.
The Arizona sunsets are breathtaking. Taking full advantage of the outside décor, desert landscape, lighting, and visuals is something many brides-to-be plan to be a part of their wedding. Celebrating on our outdoor terraces, among the lush gardens on the grounds, makes for reception memories that will last a lifetime. Our skilled wedding professional is here to help answer your questions and start the planning process today. The team has done hundreds of wedding; their combined experience shines through when it comes to planning each piece of the puzzle.
From small and intimate to large and rambunctious, we're able to accommodate most any size ceremony and reception here at The Wigwam Arizona. We also offer great block room rates for large parties staying together at our hotel. Visit our Weddings Overview page for more information on how those rates and discounts work. While you're still in the planning stages, our wedding professional would love to hear from you. You can reach our team by calling 623-856-1087. We'd be happy to help answer any venue, ceremony, or pre-planning questions for you. Choosing a budget and sticking with it is important as well, so we'd be happy to discuss our rates.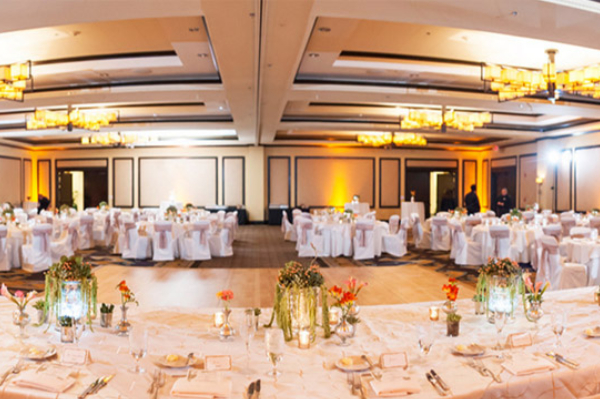 For more online information, visit our Wedding Reception Venues page for additional photos and a list of both our indoor and outdoor spaces. Our three most popular venues are The Wigwam Ballroom, Sachem Hall, and the Mohave Ballroom; the unique lighting fixtures in the Mohave Ballroom create an engaging, contemporary look. The radiant environment is exceptional for wedding receptions, accommodating up to 300 of your esteemed guests. We also have many exquisite outdoor lawns and sections available to use on our grounds, making The Wigwam one of the most versatile places to get married in the Valley. We're looking forward to helping you plan your big day.